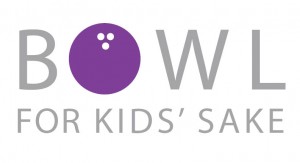 Bowl For Kid's Sake is Big Brothers Big Sisters of the Capital Region's signature fundraiser. Each year people across Cumberland, Dauphin, Lebanon and Perry County come together to have fun and raise money to support Big Brothers Big Sisters of the Capital Region as we change how children grow up! Bowl For Kids' Sake is the perfect way for individuals to make an impact on our community- it only takes a little bit of effort to raise the money that is vital to our program's success.
As a "thank you" for your support and enthusiasm, Big Brothers Big Sisters host a celebratory party at your local bowling center. No bowling expertise is required, only the willingness to share in our heartfelt and sincere thanks for helping us transform our community.

Community Bowls:
Sunday, April 7th:
*ABC East at 2:oopm
ABC West at 2:00pm presented by Members 1st FCU
Midway Bowling Center at 3:00pm presented by M&T Bank
Cedar Lanes at 1:00pm presented by Jonestown Bank & Trust Co.
Saturday, April 13th:
Trindle Lanes at 8:00am (Breakfast Bowl) presented by United Concordia
*ABC North at 1:00pm
*Red Crown at 1:30pm
Corporate Challenge:
Friday, May 3rd at 6:00pm presented by ParenteBeard
*Friday, May 3rd at 8:00pm at ABC West
*sponsorships still available