Congratulations to Our
Scholarship Award Winners!
Big Brothers Big Sisters of the Capital Region gives away $5,000-$6,000 annually in scholarships to young adults in our program. Congratulations to our 2018 recipients!
Deion Gleed
Hall Foundation Scholarship
$1,000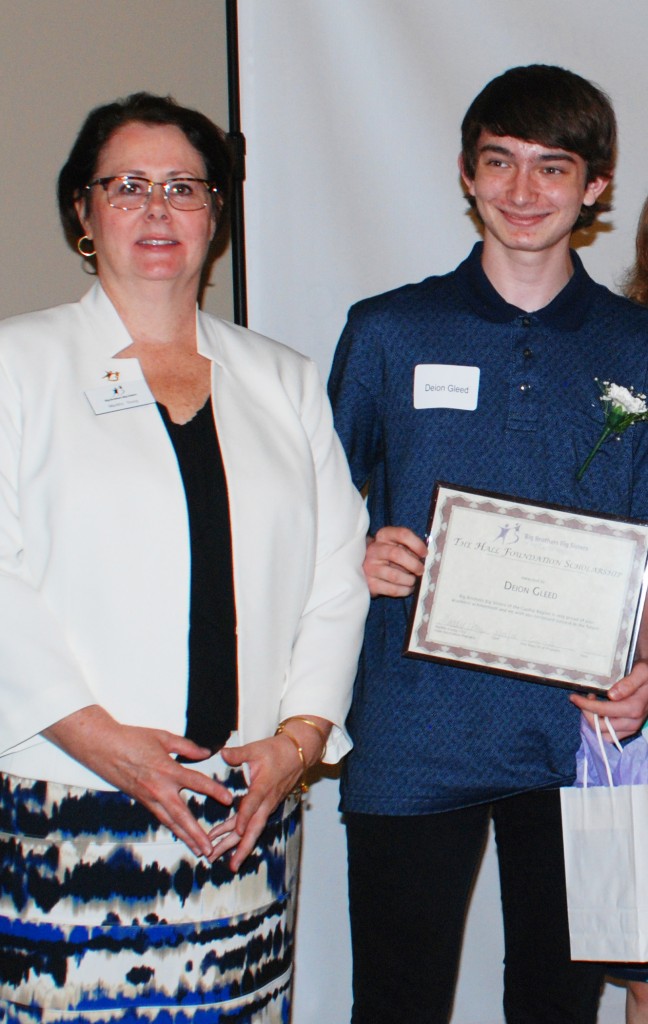 Deion has been matched as a Little Brother to his Bigs Chris & Meagan Cassel for 10 years. He was on the Honor Roll grades 6th-11th and enjoys both volleyball and chess. He is graduating from Palmyra Area HS and will attend HACC where he plans to study physics with the intent of going into astronomy or engineering. Deion has experience as a counselor in training at Kenbrook Bible Camp and intends to work as a counselor this summer.
"My mother gave me the idea of going to college a long time ago because she doesn't want to me struggle financially, and getting a higher education would definitely help me in that aspect. Meagan and Chris are the ones that helped give me the push towards actually attending college. They know how all of the basics and the experiences you get from college and are guiding me through it. They both don't want to see me fail in life and they want me to achieve what I want, so they are doing everything to make sure I get there. I know if I didn't have the two of them helping me out I would have procrastinated too much and would have missed my chance of being able to attend college
When I was younger I didn't like to talk to people or have any form of human contact at all. When Meagan or Chris came to pick me up they would ask me a series of questions. I used to only give one answer responses (maybe even a few groans and the occasional eye-roll), and I also remember getting to their house just to be asked more questions by the other one (usually the same ones). I didn't like having to do that every time I would see them, but I answered their questions (for the most part anyway). I was a hard person to talk to at the time, but as time went on I started to answer their questions with more variety, and started to talk to them more. Them getting me to talk all the time started to show at school, because I started to actually talk to other kids at school and not [stop] the conversation as quickly as I used to. I became a [more] interesting person to talk to."

–
Jayleen Rivera
Hall foundation Scholarship
$1,000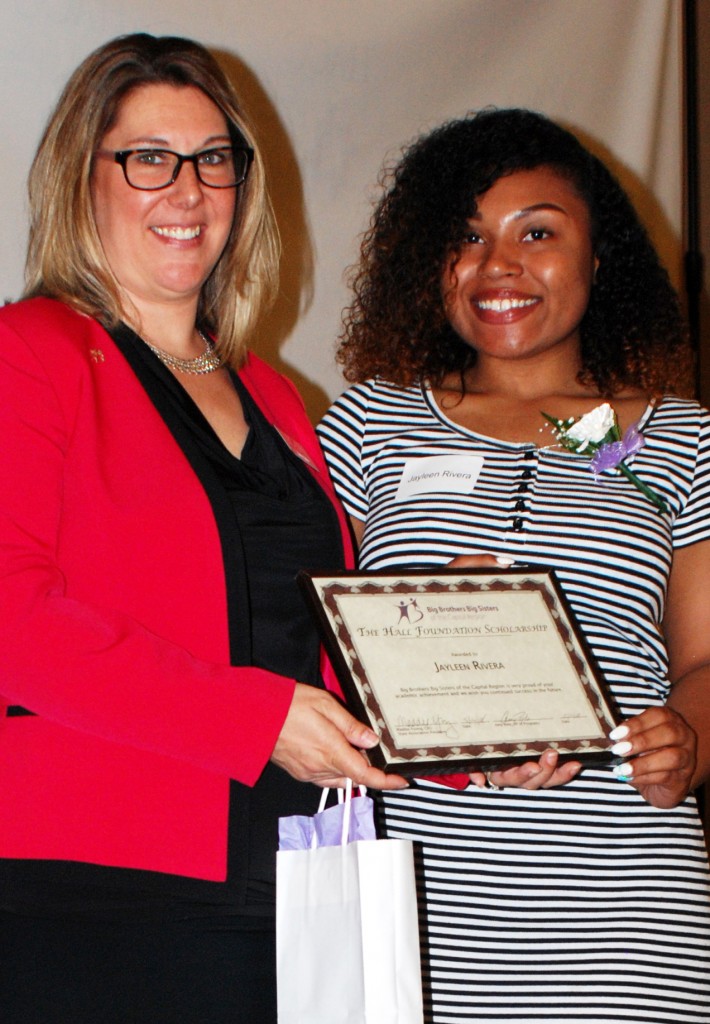 Jayleen has been a Big Sister for two years, mentoring her Little at Cedar Crest Middle School. She is graduating from Cedar Crest HS and will attend Penn Statue University to study pre-medicine. Once she graduates, she intends to obtain her degree as an Emergency Room Assistant and then pursue work at a facility in California or New York "because they have the most active emergency rooms." Jayleen is on the honor roll and has received a number of awards including Perfect Attendance, Most Improved, Captain Award and Student of the Year nominee. She has volunteered for multiple events and organizations including First Aid Kit fundraiser, Middle & High School tutoring, clothing and food drives, Earth Day clean up, and many more. She is CPR, First Aid and AED certified. She participates in Key Club, Church, Competivite Cheer, Prom Committee, Debate Club and, of course, Big Brothers Big Sisters of the Capital Region.
"The Big Brother Big Sister program has impacted my decision to further my education by influencing me to have a career in a field where I can help a large variety of people, to improve their quality of life. This program allowed me to not only mentor a Little, but it opened my eyes to the different fields I could potentially be in. Throughout the years that I have been with my Little, she has taught me that not everyone deals with situations the same way. For example, she had a conflict with another student and I gave her solutions to try to avoid future problems. But that didn't work for her, so together we came up with a new solution that allowed her to remain out of trouble. This experience in the program has allowed me to have the opportunity to narrow down my career path by giving me insight onto what positive things can occur by improving another person's life. Overall, this program allowed me have a clear insight into what my future may hold.
This program gave me the chance to develop into a more positive and compassionate individual. An experience that has led to my growth and development as a person would be the Bigs & Littles team building activities. These activities not only made it easier to bond with my Little but it made me want to try some of the problem solving solutions in my life. Each activity was fun but had a deep meaning to it. For example, we had to cut out positive words from a magazine to describe ourselves. Previously I had a negative self image but after doing this I felt better about myself and realized that everyone was created to be different and stand out. I may not look like my favorite singer but that's okay because I'm not meant to be anybody but me. Without this program I wouldn't be the positive, moral booster I am today. I'm very thankful to have been given the opportunity to be a part of this program because I didn't only help change someone else life for the better but it changed me into a leader."
Tresjon Ruiz
D&H Cares Scholarship
$1,000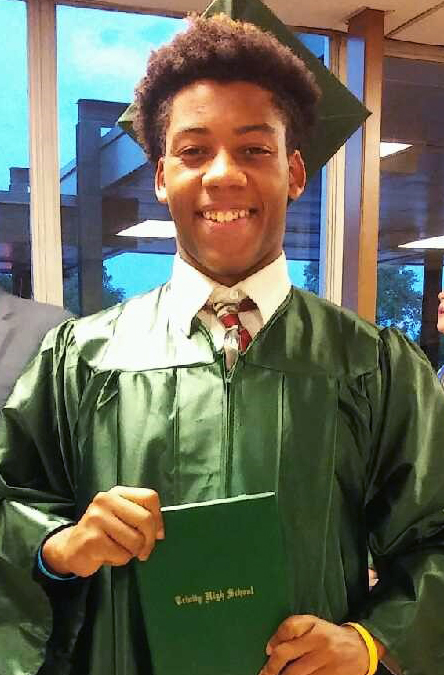 Tresjon has been matched with his Big Brother Bryan for 9 years. He is graduating from Trinity High School and has been accepted to three colleges. He participates in basketball, football and choir and volunteers at THON. Tresjon was Player of the Game on his high school basketball team. Outside of school, he's worked at Save A Lot Food Store and FedEx and enjoys playing ball and bowling.
"Big Brothers Big Sisters has provided me with an extremely positive role model and an even greater mentor. Bryan has taught me much and is a very good example of what I want to accomplish with myself in the near future. The first step to a successful career is education. [One day] Bryan and I had gone out to lunch and I told him that I'm starting to apply to colleges and such. He started giving me tips and advice, and [expressed] that I'm getting closer and closer to becoming my own man. He's taught me how to buckle down and get serious about my future." – Tresjon
Selena Santiago
D&H Cares Scholarship
$1,000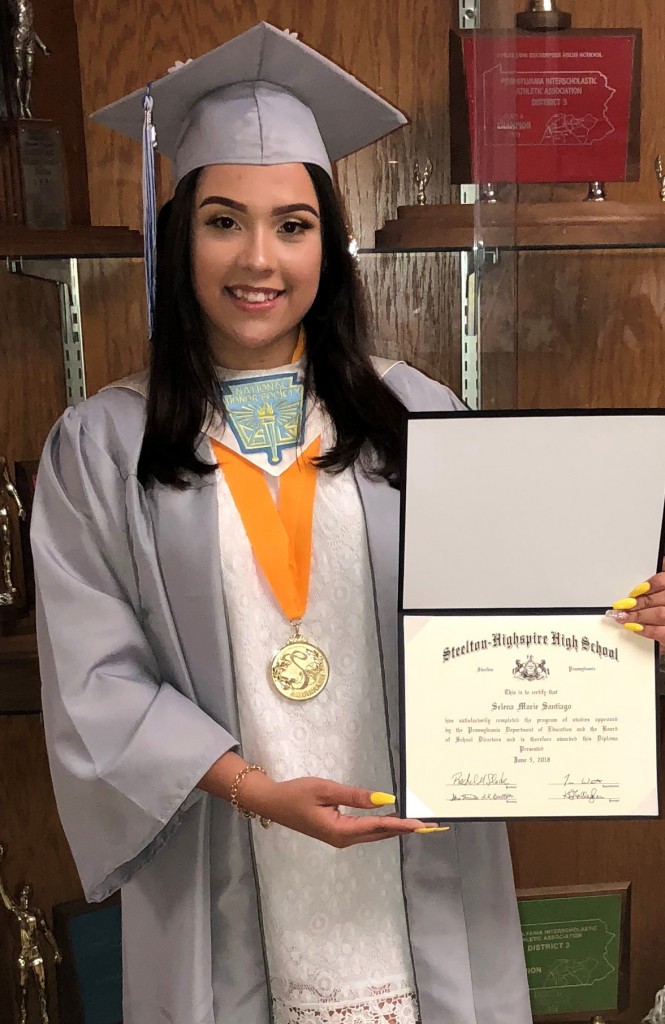 Selena has mentored two Littles at Steelton-Highspire Elementary School; being a Big Sister to one Little during her Junior year and the second Little during her Senior year. She is graduating from Steel-High and will attend West Chester University to obtain her BSN and pursue a career as a registered nurse. She is a member of the National Honors Society, ranked 2nd in her class and she's taken advanced placement and honors courses throughout high school. Selena works at Texas Roadhouse and baby sits from time to time. Selena is treasurer of her class council and previously captained both the volleyball team and the basketball team. She likes to spend her free time with her family and volunteers at school event concession stands and participates in class fundraising.
"I enjoy working with children and have always known I wanted to enter the medical field, primary falling in a youth category of health care. Working with my Littles for the past two years helped me to realize how fond I am with helping people in both big and small ways. [From] just visiting my Little to talk about whatever it may be that is on their mind that day, or helping them with an assignment. Children appreciate these things we consider small but to them it may be a big deal.
I am thankful to be able to share this experience with my Littles and to provide the attention they deserve. The Big Brother Big Sister program taught me even more responsibility with making sure to visit my Little often, and being that person that they can depend on. I will take these things with me that I have learned in my future to become that person that many will depend on for their health care.
I have always loved the presence of children, growing up with both older and younger siblings I was blessed to always have someone there to play with or talk to. As I have grown I realized not everyone is given the same opportunity growing up. With that being said I took advantage of this opportunity to fill that space in my Littles' lives.
I have had two Littles since I started this program during my junior year. I feel closer to my Little this year; at first she was really shy but there is a major difference now. When we meet she always has more stories to tell me about what is going on in her life, or questions about my life. The last time we met we talked about so much I stayed about double the time I usually do. Seeing her open up and develop a relationship with me has made me feel very proud of going through with the program and being re-matched this year. Not only do I help her and teach her small things but she does the same for me, by seeing life from another perspective."
Nathan Scott Trovinger
Minor League Baseball Rising Star Award
$500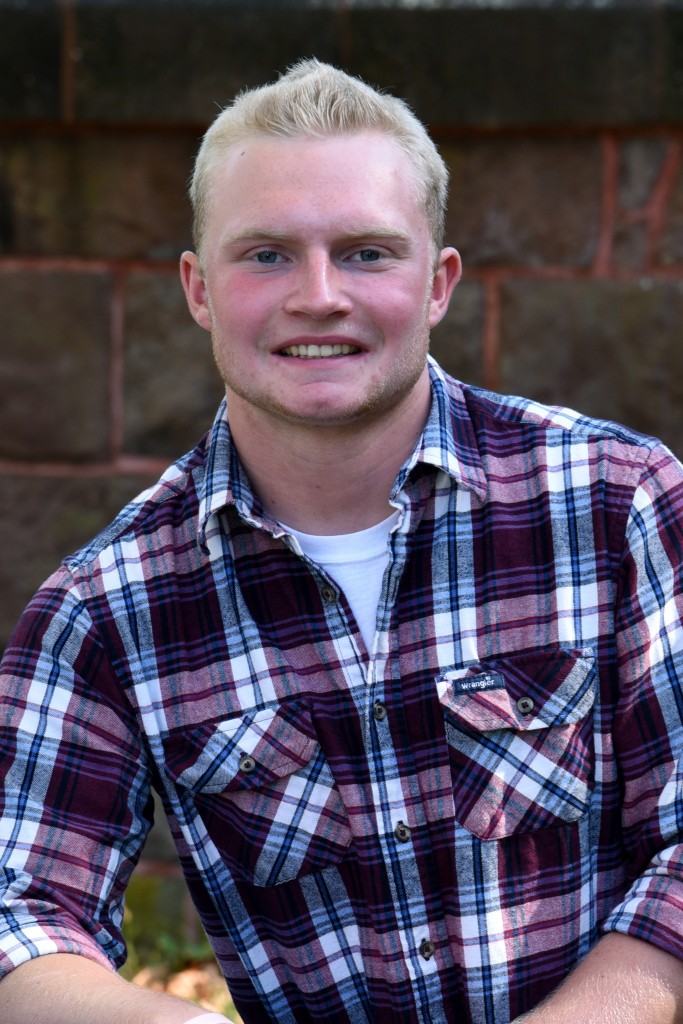 Nathan has been a Big Brother for one year, mentoring his Little at Cedar Crest Middle School. He is graduating from Cedar Crest High School and will be attending Lock Haven University to major in physical education and exercise science. He will also be playing baseball for the Lock Haven Eagles. Nathan is an Eagle Scout and hiked over 100 miles at the Philmont Scout Rand and lead about 13 scouts for two weeks. He participates in football, winter track and varsity baseball and is the captain of his baseball team. He has played on a variety of baseball teams, participated as a camp counselor and baseball clinic counselor and the Hemlock Junior Olympic archery. He's volunteered for the adopt-a-family program lead for baseball, the Hurricane Sandy drive and deliver to NJ, St. Marks UCC Mission Team trips and more. He's been received multiple honors and awards including the Falcom Spirit award 2013, 2014, 2015, Rep. Rose Marie Swunger leadership award, Academic Honor Society and the Citizenship Citation from Senator Rick Folmer.
"I was very lucky when I younger to be placed with great coaches, gym teachers, and a mobile therapist that helped me deal with the stress of my sister's many medical issues from a very young age. They helped me to enjoy physical fitness and I learned quickly how to involve others in that play.
I began my big brother big sister journey as a counselor midway through my junior year at Cedar Crest High School. Being involved with Big Brothers Big Sisters has impacted my decision by allowing me to be that one-on-one coach and helper with my Little, just like I had when I was younger. Always being excited to take gym or do athletic activities, it helped to relieve stress and made exercise fun. I would love to be able to continue to do that for other children, and hopefully make their days better emotionally, like others did for me. So being able to start coaching my Little this way, has been a great experience and good training for the future. I hope my Little has enjoyed our time as much as I have.
In just a short year, I have learned many lessons on how to help my Little cope with his family issues as well as his social issues. I have seen him at his lowest and highest, and I am glad to be with him through it all. This program has given me so much while I am able to help others.
Being able to change his mood to the better on a rough day, and use my own experiences as example was very helpful to him. Over the time of being a Big, the program has revealed to me what I want to do as my career path. I have found that I want to pursue a career as a physical education teacher. In this career I would be able to help my students learn about physical fitness as well as help them with the social issues or problems that they may have."
September Fuhrmaneck
Reigler Scholarship
$1,000
September has been a Big Sister for three years, mentoring her Little at Silver Spring Elementary School. She is graduating from Cumberland Valley and will be heading to Millersville University to major in Medical Technology in Millersville's Allied Health program. She won Student of the Month in February 2017. September has worked as a daycare teacher assistant and lifeguard. She enjoys hiking, bowling and spending time with her family and friends. She has volunteered for the Special Olympics bowling for three years and volunteers for environmental clean ups.
"Big Brothers Big Sisters has affected, and continues to affect my student experience at Cumberland Valley. Before I knew this program existed, I was the quiet girl who felt as though she wasn't capable of making an impact in someone's life; however, I cannot relate to that anymore. I am now capable of seeing situations in all different perspectives, and I am constantly trying to help others as much as I can.
I have found a purpose for wanting to come to school other than to learn, but to come to school knowing I have my Little Brother looking up to me as his role model. This program has made me want to further my education much more than I ever did before because I want to continue to make this world a better place.
Throughout my involvement in Big Brothers Big Sisters, I have gone through the most life changing experience that ever happened to me by just being the reason for someone else's smile. I can happily say, when I go to spend valuable time with my Little, I couldn't be more excited and overjoyed to see his big smile. I am that someone who he looks up to, who listens to all of his crazy stories, and someone who is always there.
Being part of this wonderful program, I have also gained the realization that I have impacted a child's education and self confidence slowly, but surely. Even though we don't get to spend much time together, I see growth everytime I meet with him. Watching this, allows me to prove to myself: I am making a difference in someone's life – which is the best feeling in the world."
EJ & Steve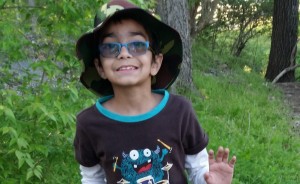 In November 2017, we featured our volunteer, Big Brother Steve Yeager on our social media accounts. Steve was nominated for WGAL's "8 Who Care" award but there's more to this story: EJ was 7 years old when he came to Big Brothers Big Sisters. EJ faces several educational, physical and emotional challenges and was struggling with certain aspects of school.
When our Program Specialists were looking for a Big Brother for EJ, they all identified Steve as the most compatible match. He has no experience with special needs children, but he was clearly a mature, stable, caring man with a big heart who was willing to commit to a child desperately in need of a positive adult role model. (Just the kind of Bigs we're looking for.)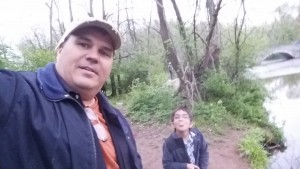 Assisted by our Match Support Specialists, Steve has become an unwavering pillar of support for EJ and his family through many difficult situations. Every Wednesday, Steve meets EJ for a special activity, such as fishing, building rockets or trips to the library. Steve got EJ involved in Boy Scouts, ensuring that EJ has an adult with him for camping trips and Pinewood Derby competitions. Without Steve, EJ would be unable to participate in these and other outdoor activities as EJ's caretaker is physically unable to join EJ for these excursions.
Steve demonstrates commitment and unconditional caring for his Little Brother, a vital aspect of childhood development that cannot be underestimated. EJ's foster parent reports that EJ has made monumental progress emotionally and academically over the past three years. EJ's self-confidence has bloomed and he is able to engage with and relate to others with greater ease.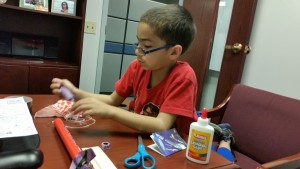 The original grant funding that covered the cost of making Steve and EJ's match has been exhausted. We need your financial support now to keep this match – and the 800 other matches we manage – going well into the future. Please make a contribution today so that our many continuing matches keep going in 2018.
Will you give $10, $20 or $50 now to support our matches?

---