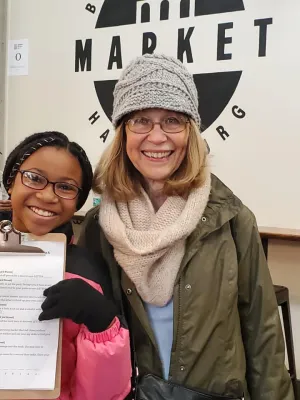 Big Brothers Big Sisters is in the business of changing lives. Every day we defend the potential of local children and create friendships that make a lifelong impact. Annually, our agency serves 500-700 children in a variety of programs; some programs take place in schools, some in local companies and our traditional program engages children in the community.
We unite young people (Littles) with caring, positive adult role models (Bigs) in professionally supported one-to-one mentoring friendships. Together, they clear a path to success by breaking societal barriers, closing opportunity gaps and overcoming adversities like poverty and identity-based discrimination.
At the heart of everything we do is our evidence-based one-to-one youth mentoring service delivery model and our caring staff members. Our match coach and program specialists communication with parents, volunteers and youth throughout the lifetime of the match, providing guidance, resources, trainings, activities, community referrals and general support.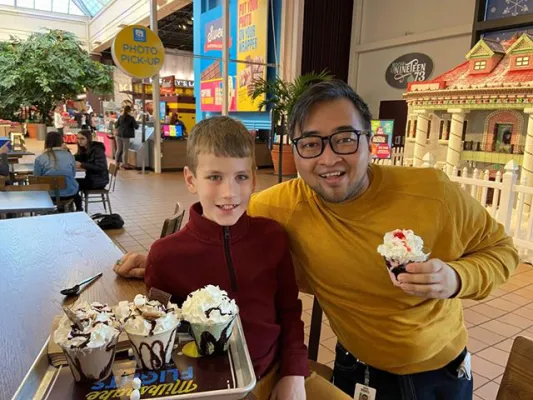 Community-Based Program
Community-based mentoring is our most familiar national program. Dedicated adult mentors are matched with youth in the community, across our 5-county service area (Cumberland, Dauphin, Lancaster, Lebanon & Perry). Our volunteers, "Bigs," support their "Littles" through encouragement, guidance, and being a positive role model. Matches commit to meet two to four times a month for no-cost or low-cost activities in the community.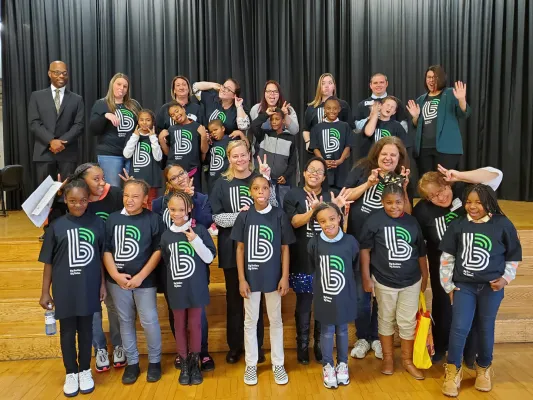 Site-Based Program
Our site-based mentoring program provides an opportunity for a child and their mentor to meet several times per month at the child's school or youth center. Bigs in Blue, Beyond School Walls and Youth Rise Stand Together are all site-based programs. Other site-based programs include high school students mentoring middle or elementary students from the same school district, college students mentoring youth at a nearby middle or elementary school or adult mentors from the community.
Virtual Mentoring
Our agency is actively supporting matches in both virtual and in-person environments. Parents/guardians and volunteers in our Community-Based Program are encouraged to communicate with each other and our Match Coaches to determine whether the youth and volunteer will meet in-person or virtual as well as how often and what safety guidelines to follow. Our Site-Based Programs are a mix of virtual and in-person, following state and individual school district guidelines.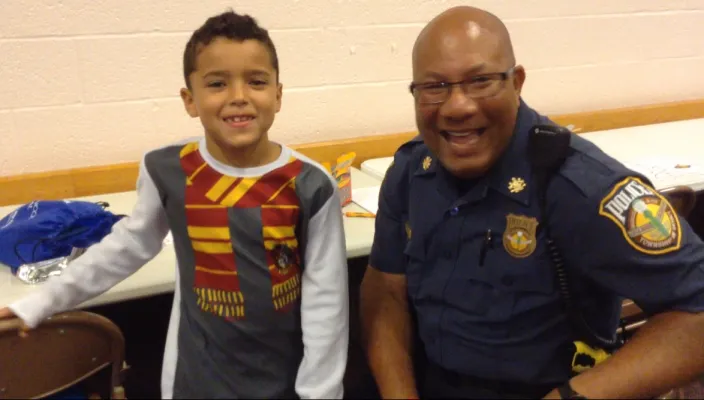 Bigs in Blue Program
"Bigs in Blue" is a national initiative designed to introduce youth to active-duty law enforcement officers who serve as mentors. Each officer meets with his or her "Little" a few times each month on-site at the child's school. This program opens lines of communication and fosters trust in our communities. BBBSCR currently has the second largest Bigs in Blue program in the country. We are partnered with 17 local police departments as well as the Pennsylvania State Police.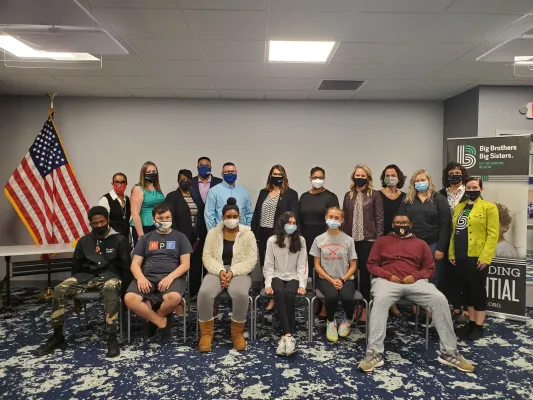 Beyond School Walls Program
"Beyond School Walls" is a customized curriculum-based mentoring initiative which introduces high school students to professionals from regional businesses, trades and higher education. Students and adult mentors meet bi-monthly at a corporate, educational or community location, to inspire and prepare students for their future when they step beyond their school walls. Throughout this multi-year program, students build confidence, explore career opportunities, acquire soft skills, and learn job skills as they develop a plan and post-graduation goals.
Current Programs:
Capital Blue Cross employees mentor youth from Harrisburg School District
Deloitte employees mentor youth from Cumberland Valley High School
Mid Penn Bank employees mentor youth from Susquehanna Township High School
Youth Rise: Stand Together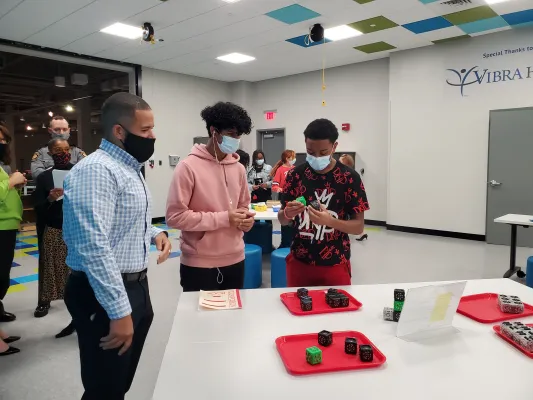 Youth Rise: Stand Together (A Beyond School Walls Program)
Launched in January 2021, "Youth Rise: Stand Together" started as a virtual speaker series, then launched as a Beyond School Walls program in October 2021. The purpose of the program is to introduce youth of color to BIPOC (Black, Indigenous, People of Color) community leaders. Through this program, representatives from regional businesses serve as one-to-one mentors for high school students. This program was made possible thanks to the collaboration of Harrisburg Regional Chamber & CREDC and Whitaker Center of Science and the Arts. And special thanks to Capital Blue Cross and our local and national partner, The Starbucks Community Foundation, for sponsoring the program.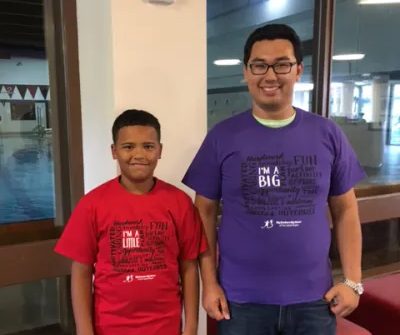 Sports Buddies
Bigs and Littles meet at their local YMCA to swim, play basketball, workout and participate in YMCA hosted programs.
INITIATIVES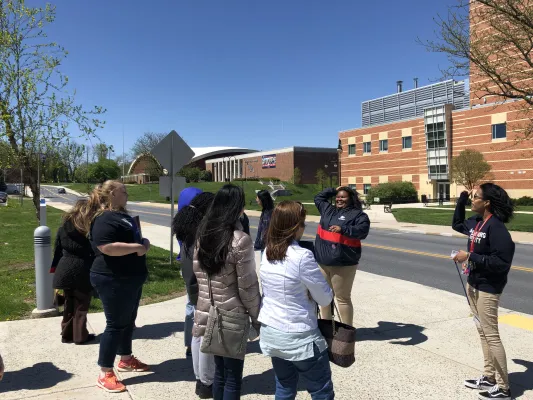 Savvy Sisters Initiative
This STEAM and leadership initiative introduces girls to female professionals, executives and entrepreneurs in the community. Little Sisters, ages 10+ explore professional and academic interests through visits hands-on activities, presenters and visits to local businesses, community organizations and educational facilities.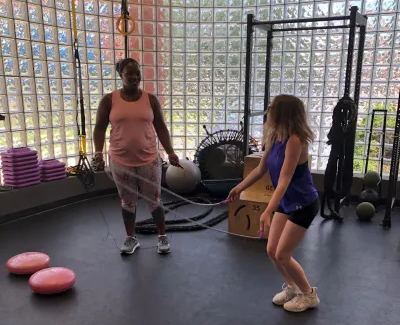 Grow Big Grow Well Initiative
"Grow Big Grow Well" is a holistic health and wellness initiative. Matches participate in activities that reinforce healthy choices and introduce youth to strategies which provide a holistic approach to wellness. The pilot program was launched in 2019 thanks to the Partnership for Better Health and the program is expanding to all five counties thanks to Highmark and Penn State Health.
PROGRAM & SERVICE DELIVERY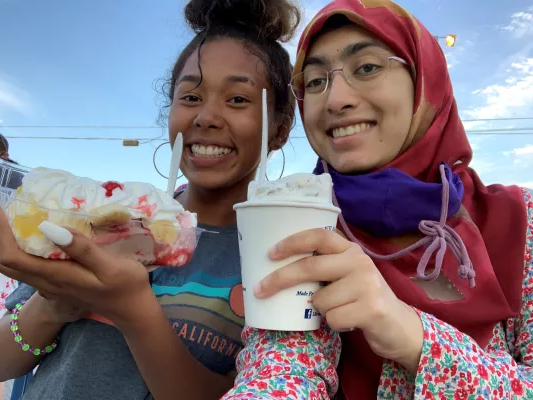 Professional Match Coaching
Our trained staff provide advice, guidance and support to the Little, parent/guardian and Big throughout the lifetime of the match (1 year – 10+ years). Our Match Coaches provide ongoing support for the families, youth and mentors including routine phone calls to ensure child safety and quality service.
Trauma-Informed Care and Wrap-Around Services
BBBSCR provides wrap-around support services to families dealing with trauma, including ongoing challenges from the COVID-19 pandemic. BBBSCR works with local school districts and other social service organizations to provide comprehensive care solutions. Our match support case managers guide families through the often-confusing web of community services, connecting them to vital resources and aid.
Our trained staff provide trauma-informed case management support to mentors, children, and families throughout the match to ensure safe and healthy relationship building. BBBSCR works to build trust between families, children, mentors and the community by identifying sources of trauma in the child's life. Our protocols build resiliency and coping skills that support Littles through a lifetime of challenges.
Match Activities & Experiential Learning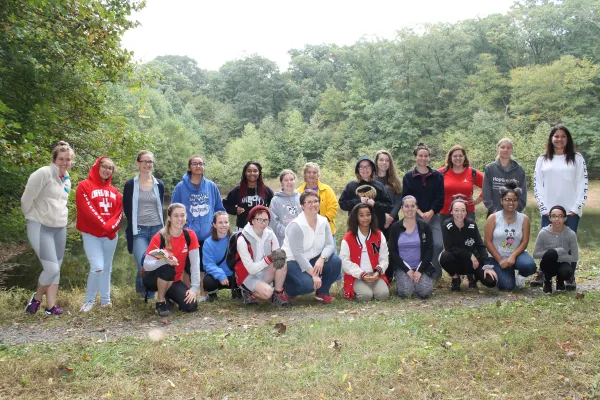 BBBSCR provides activities throughout the year for Bigs and Littles to strengthen their friendships and provide new experiences for Littles. These activities as well as news, community opportunities and local resources are shared in regular match newsletters.
Experiential learning initiatives such as Savvy Sisters and Grow Big Grow Well provide fun and educational activities for Bigs and Littles. BBBSCR collaborates with community partners, professional expects and area businesses to provide the expertise, education and experience for each activity.