FEATURED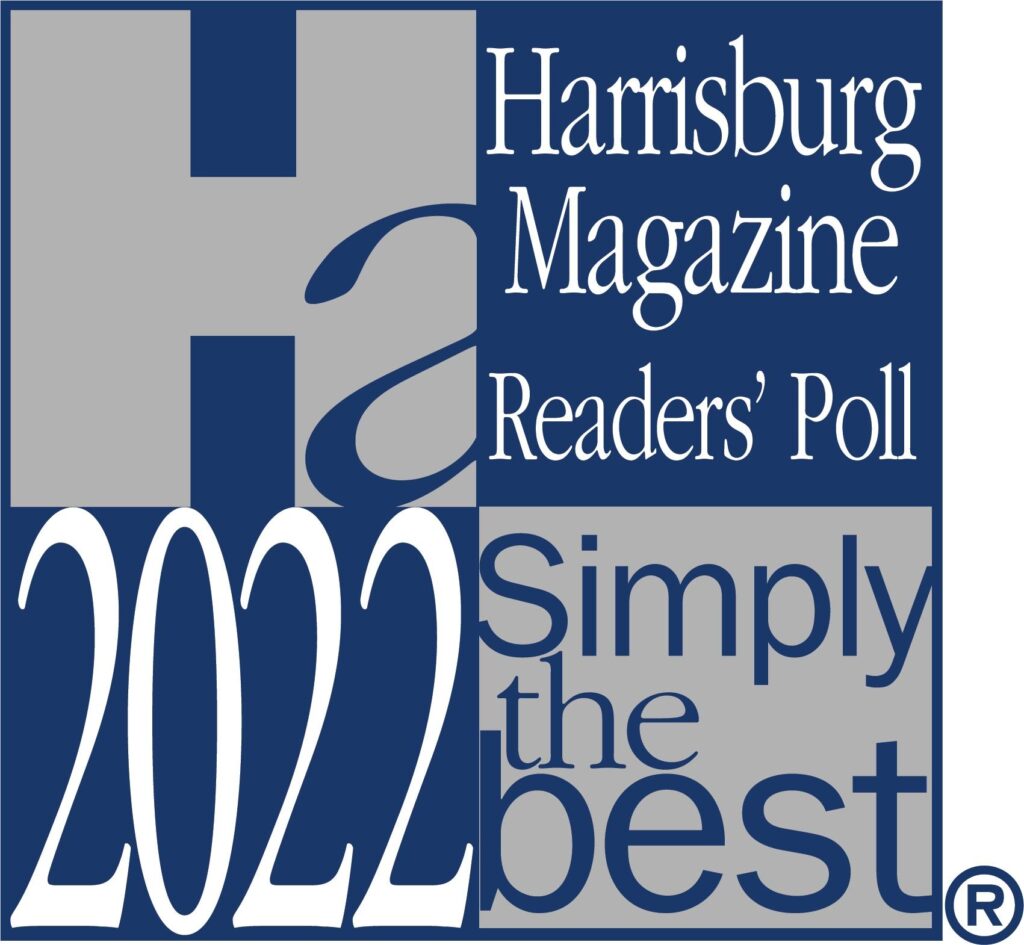 Thank you for voting us Simply the Best Community Services! We are honored and grateful for your support of our mission. With your help, we will continue to create positive mentoring friendships that ignite the power and promise of youth.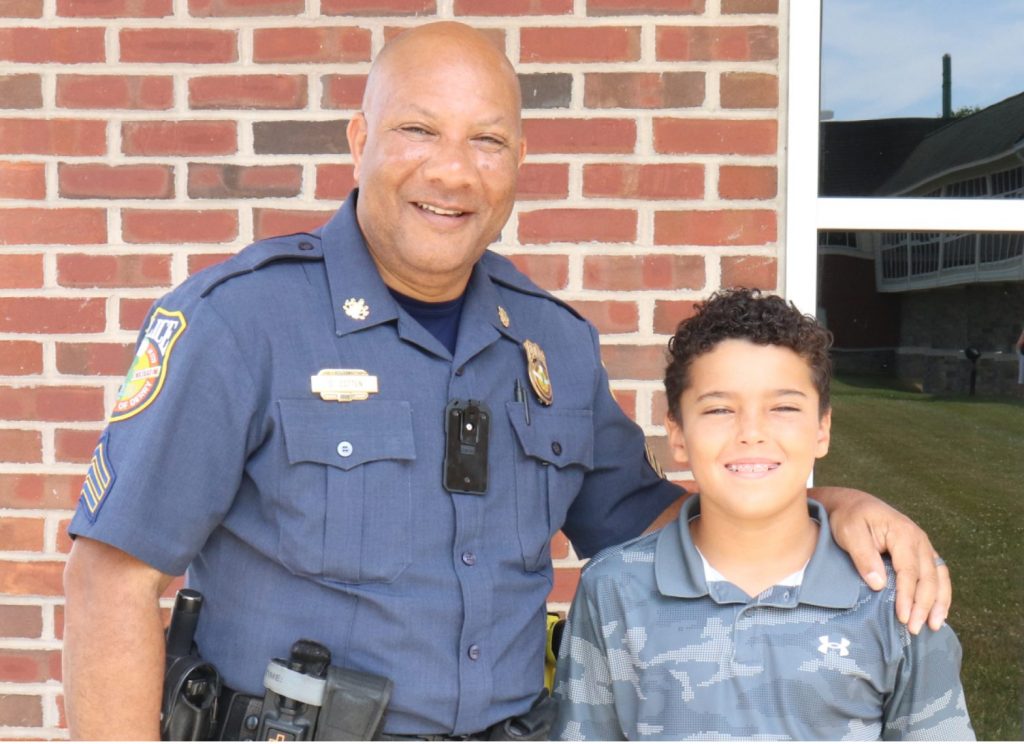 True Blue: Police officers and area youth forge brotherly bonds through "Bigs in Blue" – TheBurg: July 29, 2022
Thank you to TheBurg and Karen Hendricks for sharing our Bigs in Blue match stories and how the program builds friendships, empathy and understanding between law enforcement and the youth and families we serve.
"There's one story that always brings tears to the eyes of Derry Township Police Sgt. Darren Cotten.
"Bo was in second grade when we started having lunch together once or twice a month, then going out to recess together," Cotten said. "We were a perfect match, instantly, because he's a little athlete, into the same sports I'm into—football, baseball and basketball."
The first few times, Cotten's presence, as a fully uniformed police officer, drew curious looks from Bo's classmates. They were skeptical." Read more on TheBurg News site….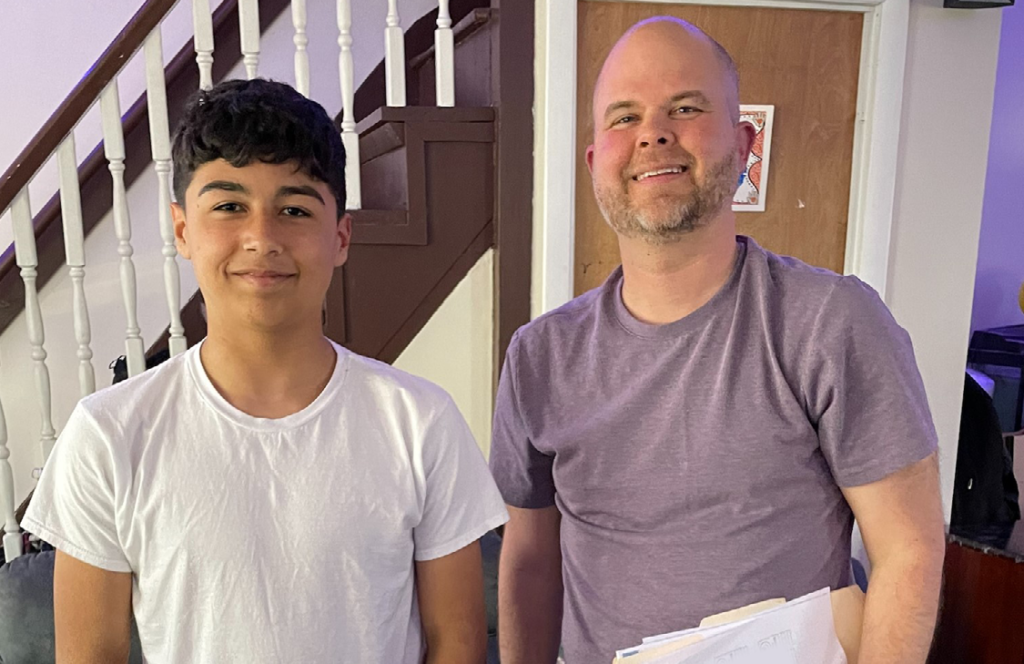 Little Juan and Big Ryan Featured in La Voz Latina Central
Juan's mother wanted her son to gain "more communication skills because he's quiet" and hoped Big Brothers Big Sisters could find somebody for him to look up to.
Like many volunteers who walk through our doors, Big Brother Ryan doesn't have to do much to make an impact – he can simply be himself. Ryan spends time with Juan playing basketball and riding bikes. That's what we ask of all our Bigs – to gift a couple hours of their time each month to defend the potential of a child.
Thank you David Misner and La Voz Latina Central for sharing their story!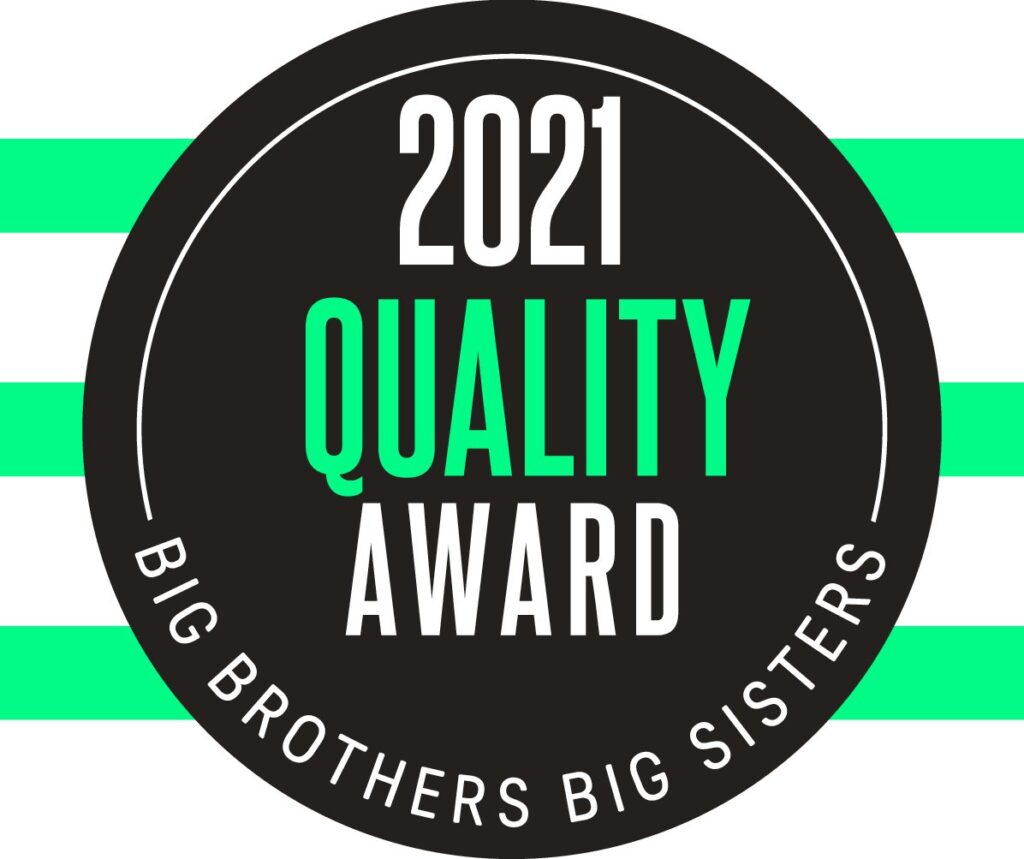 Big Brothers Big Sisters of the Capital Region is honored to receive the 2021 Big Brothers Big Sisters of America Quality Award! Every year, BBBS agencies are recognized by BBBSA's Nationwide Leadership Council for excellence in one-to-one youth mentoring. Our CEO, Amy Rote, accepted the Quality Award today at the Bigger Togther National Conference.
The Quality Award recognizes agencies based on criteria for number of matches served, number of mentoring relationships that lasted 12+ months, and financial revenue. Thank you to our amazing staff, volunteers and Board Members for helping our agency achieve this year's award!
BIG BROTHERS BIG SISTERS OF THE CAPITAL REGION RECEIVES $1.1 MILLION DONATION FROM MACKENZIE SCOTT TO TRANSFORM MENTORSHIP IN SERVICE AREA
JPL & d'Vinci Interns Support Underserved Communities through Big Brothers Big Sisters Video
JPL and d'Vinci Interactive summer interns partnered with Big Brothers Big Sisters of the Capital Region (BBBSCR) to create a pro-bono brand video to help the non-profit reach volunteers and supporters. Big Brothers Big Sisters is a non-profit organization dedicated to defending the potential and igniting the promise of youth through one-to-one mentorship programs and other community-based initiatives.
JPL intern Ghalia Ghuniem (Boston University), and d'Vinci interns Abby Fleishauer (Bloomsburg University), Alhaji Kabba (Hagerstown Community College), and Maggie Delano (Penn State University) produced a video using compelling stories from mentors and children to promote the various opportunities that BBBSCR provides.
"Through this experience, our kids and volunteers had the opportunity to share the difference their relationships have had on one another. Their stories and our programs were featured to show there are numerous ways to engage in our mission beyond mentoring, and to inspire the community to invest in our mission. The expertise of JPL and the commitment of the interns is a generous gift that will keep on giving for a long time to come," said Amy Rote, Big Brothers Big Sisters of the Capital Region President & CEO.
The video will be used by Big Brothers Big Sisters of the Capital Region to articulate their story to prospective mentors, corporate partners, and sponsors.
JPL has been donating communications and marketing expertise to area non-profits through its intern program for more than 20 years. To learn more about Big Brothers Big Sisters of the Capital Region, visit their website or any of their social channels.
Watch the Video https://youtu.be/ObsUE1yZX4o
2021 News, Events & Features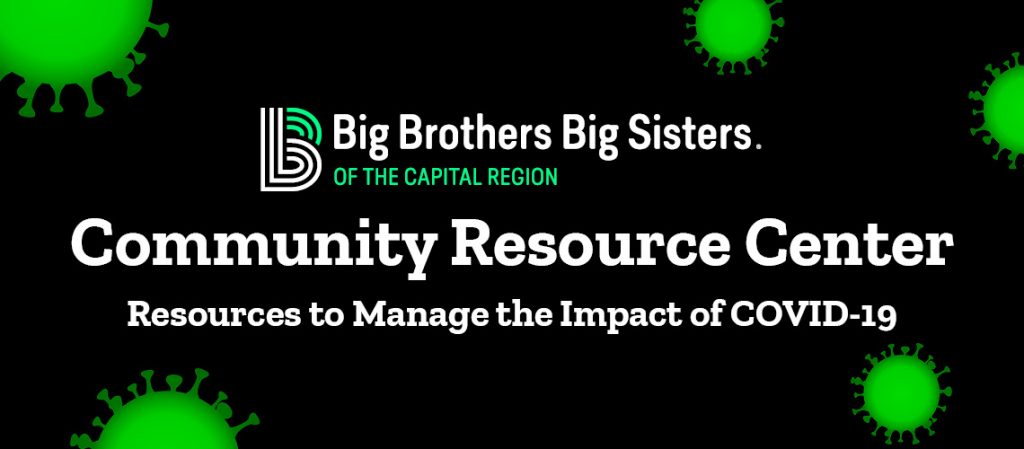 6/8/21: Golf fore kids sake, pair golf 126 holes to raise money for Big Brothers Big Sisters, abc27
5/26/21: BBBSCR Hires Braddy, Town Lively
3/1/21: Big Brothers Big Sisters of the Capital Region Welcomes New Development Director, Harrisburg Regional Chamber
1/13/21: Rote to Lead BBBSCR, Town Lively
2020 News, Events & Features
9/26/20: Insight with Sylvia Maus, iHeart Radio. Even through a pandemic, Big Brothers and Big Sisters of the Capital Region continue to mentor and inspire our youth.
9/4/20: Spotlight: 100 holes "Fore" Kids' Sake, Fox43
9/3/20: Big Brothers Big Sisters of the Capital Region raises money with golfing event, CBS21
8/27/20: Driving Change: Joe Holston to golf 100 holes in a day to support Big Brothers Big Sisters, The Burg
2/26/20 – ABC27 "Heart of the Midstate" Facebook Live series. CLICK HERE to view the video.
1/22/20 – BBBSCR Named Finalist for CPBJ Award – "Finalists named in CPBJ's Nonprofit Innovation Awards" CPBJ
2019 News, Events & Features
12/20 – Video of Little Brother learning about the weather. – "21 Days of Caring: Big Brothers Big Sisters" CBS21
10/18 – LIVE VIDEO of Chris Garrett going Over the Edge. – "Big Brothers Big Sisters of the Capital Region "Over the Edge" 2019" Fox43
10/18 – Video of rooftop view as Ali Lanyon goes Over the Edge. – "'Over the Edge' for Harrisburg's Big Brothers Big Sisters" ABC27
10/18 – "Tom Russell goes 'Over the Edge' for Harrisburg's Big Brothers Big Sisters" CBS21
10/16 – "Heart of the Midstate: Many will go 'Over the Edge' to help local children" ABC27
10/6 – Podcast: Mid Penn Bank joins BBBSCR to discuss Over the Edge. "Big Brothers/Big Sisters of the Capital Region" Insight with Sylvia Maus on iheart
10/2 – Big Sister Erin and Little's mother prepare to go Over the Edge. "Mommy Minute: Special pair set to go 'Over the Edge' for Big Brothers Big Sisters" ABC27
9/26 – Tom Russell shares rooftop view for Over the Edge fundraiser. – "Harrisburg's Big Brothers Big Sisters to hold 'Over the Edge' event" CBS21
8/22 – Video about "Over the Edge" rooftop rappel fundraiser. – "Go 'Over the Edge' with Big Brothers Big Sisters" Good Day PA
8/14 – Article about Over the Edge adventure fundraiser. – "Ready to rappel? Big Brothers Big Sisters will strap you in for a good cause" The Burg
5/20 – "Field day builds bonds between police, kids." ABC27
5/20 – Police officer mentors meet Littles for field day. "Making a Difference: Bigs in Blue Helping Young Mentees" CBS21
5/2 – "Big Brothers Big Sisters of the Capital Region Launches 'Grow Big Grow Well Initiative" Mechanicsburg Chamber of Commerce
5/1 – Grow Big Grow Well program launch. – "Mommy Minute: Big Brothers Big Sisters initiative focuses on physical, mental wellness" ABC27
4/18 – Community service recognition awarded to Jonestown Bank & Trust, a BBBSCR program partner. – "JBT Earns PACB Hometown Champion Award" Lebanon Valley Chamber of Commerce
3/20 – BBBSCR board members discuss community impact. "Bowl for Kids' Sake fundraiser" Good Day PA
3/3 – Podcast: BBBSCR discusses programs and upcoming events. "Big Brothers Big Sisters of the Capital Region Pt. 2" Insight with Sylvia Maus on iheart
2/27 – BBBSCR receives grant for IT update. – "Dozens of projects funded as Dauphin County announces 2019 gaming grants." The Burg
2/24 – BBBSCR participates in Match Maddness. "Partnership for Better Health to launch annual Match Maddness." The Sentinel
2/23 – Podcast: BBBSCR announces new branding and talks about programs. "Big Brothers Big Sisters of the Capital Region Pt. 1" Insight with Sylvia Maus on iheart
2/18 – Article about positive impact of mentoring. – "What's the Buzz?: Recognize your mentor this month" The Sentinel
2/12 – Article about Beyond School Walls program growth with Capital Blue Cross – "Big Brothers Big Sisters initiative highlights career exploration, soft skills for the workplace." CPBJ
1/9 – National Mentoring Month Video featuring Derry Township PD Garth Warner. – "Become a Mentor for Big Brothers Big Sisters" Good Day PA